A Decade of Burning Man Photography
by
Scott London
I'm back from an enchanting week at Burning Man. It was my tenth consecutive year, which seems hard to believe. 2013 marked the 27th anniversary of the event and it was more massive than ever. The sheer energy and intensity seems to have been ramped up several notches this year. One of the most common refrains on the playa was that the party seemed to be in full swing even before the gates opened. Many of us felt as if we barely caught our breath all week and came home more ragged than usual. But what a beautiful week it was!
Last year I shot on assignment for RollingStone.com and I was happy for the chance to do that again this time. The editors were wonderful to work with and gave me wide latitude to cover the event much as I've always done. They published two slideshows of 25 images each — one focusing on the installations, the art cars, and the event as a whole (Burning Man 2013: The Scene), and the other devoted to the beautiful and amazing faces of Black Rock City (Burning Man 2013: The People).
People have been asking me whether the Rolling Stone editors or I myself picked the final selection of images. The answer is both: I sent them about 80 photos and they narrowed it down to 50. I found it interesting that they passed on a lot of the usual Burning Man stuff, like aerial photos of Black Rock City, twilight shots of the temple, and the man engulfed in flames. I guess those have become something of a cliché at this point. Which can only mean that for better or worse Burning Man is now part of the cultural mainstream.
In addition to working for Rolling Stone, I've teamed up with fellow photographer Sidney Erthal and writer Jennifer Raiser, both dear friends, on a book that's slated for publication next summer. It will be a richly illustrated coffee table book with some trenchant writing (and extensive captions) devoted to Burning Man as a cultural phenomenon.
One of the highlights of the week was having our book editor fly in from New York to experience Burning Man for a few days (something I wish more assignment editors would do!). Seeing her take it all in for the first time helped me to remember a time ten years ago when it was all new to me. It also helped me to see the event with greater objectivity.
This was also my fifth year on the Burning Man documentation team, a small group of photographers invited to capture the event for the organization. Every year we set out to document the full range of art installations, theme camps, mutant vehicles, and scheduled performances. The task seemed more impossible than usual given the scale of the event this year. But we gave it our best.
My photography has changed and evolved over the decade that I've been shooting at Burning Man. But the basic impulse has remained the same — to try in some small way to capture the beauty, the creativity, the whimsy, the madness and the sheer outrageous good fun of it all. I'm always gratified when non-burners appreciate the photos, but my primary goal has always been to share them with those who were there and, to whatever extent I can, contribute a little of my own creativity to the mix.
As in previous years, I shot all the images using a pair of trusty Canon DSLRs. If you're interested in the equipment I carry, have a look at What's In the Camera Bag. I shot about 4,000 frames over the course of a week. Just two days into the event, I broke my primary lens — the 24-70mm f/2.8 zoom. It was brand new and I had purchased it specifically for shooting on the playa, so this was a setback. It meant that I had to adopt a somewhat different lens strategy than I'm used to, shooting "wide" and "long," instead of "normal." You can judge the results and tell me what you think.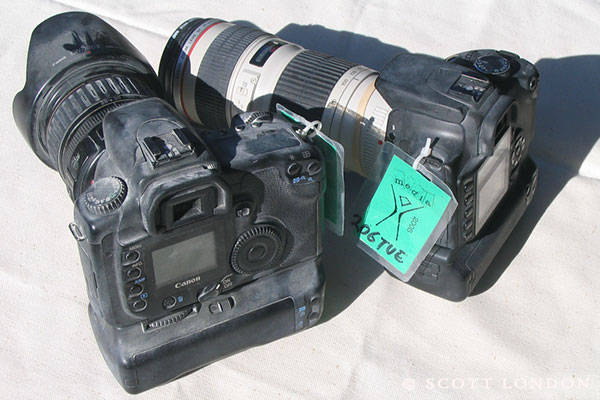 I get a lot of questions about my gear and how I protect it in such a harsh environment. The answer is I don't. I think people spend too much time worrying about heat and dust. For an interesting discussion about this, have a look at the thread on Flickr titled How do you keep your camera from getting dusty at Burning Man? See also playa photographer Curious Josh's Short Camera Tips for Burning Man.
For more on my Burning Man photography — what first inspired me to get into it, how my approach has evolved over the years, and what gear I use — you can read an interview I did a while back with Paul Caridad Sanchez in Visual News: Scott London Captures the Magic at Burning Man. Another couple of interviews appear in It's Nice That and Ignite.me.
As always, I'm grateful to the many wonderful people of Burning Man who freely consented to let me photograph them in the act of dancing, stilt-walking, hooping, making art, or simply being beautiful. I don't take that permission for granted. It requires a special patience to put up with tiresome photographers sticking their equipment in your face — pointing lenses at your tattoos, your necklaces, your derriere. My art, such as it is, would not be possible without that open consent and participation. So thank you.
Here's a set of 100 personal favorites from this year: Burning Man 2013.