Burning Man 2009
by
Scott London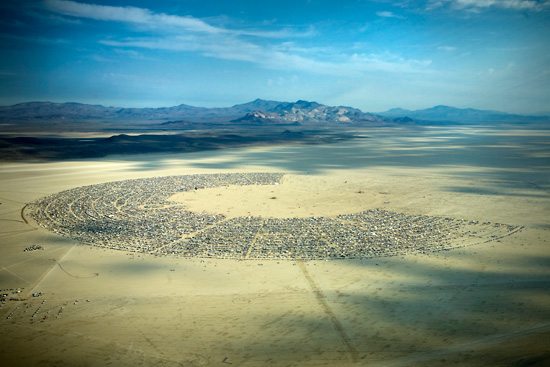 It was a beautiful and amazing week, wind and dust notwithstanding. Attendance was down by over ten percent this year — a first in the festival's 24-year history — which made for a smaller and somewhat more intimate event. There was also a sense among many I spoke with that the vibe was more low-key this year. That said, much of the art was world class, the performances first-rate, the wacky fashion and outlandish costumes unforgettable, and the people of Black Rock City, well, more beautiful than ever.
One of the highlights of this year's event was a small media gathering with, among others, Burning Man founder and director Larry Harvey. Always the man of ideas, he offered his thoughts on how the event has grown over the past quarter century and how it has come to embody a set of unique social, cultural and above all civic values. As Harvey likes to remind us, in his inimitable way, Burning Man is nothing if not a visionary experiment, one that can guide and inspire us to create stronger and more vibrant communities. (For more on this, see Five Things Cities Can Learn From Burning Man, a video clip on Time.com.)
It was an outstanding year for photography. I was part of the documentation team this year, a small crew of photographers charged with capturing the event for the Burning Man organization. In essence, it means I was one of those guys you love to hate on the playa — a photographer with a badge. Still, my approach to photography remains essentially the same it has always been, an attempt to record something of the beauty, the creativity, the whimsy, the madness and the sheer outrageous good fun of it all — if only in a small way to give something back.
I've pulled together a set of 100 personal favorites here: