Over the past two decades, the Burning Man festival has established itself as one of the world's hippest and most mind-blowing gatherings. Not quite an art festival, not quite a desert rave, not quite a social experiment, but something of all three, Burning Man is a week-long celebration of free-form creativity and radical self-expression held in the remote Black Rock Desert of northern Nevada.
Burning Man takes place in a sun-ravaged temporary city some five miles wide that rises out of the open desert each summer only to vanish again after the event is over. For a few brief days, the ephemeral metropolis known as Black Rock City ranks among the largest communities in the state of Nevada. It's a place of breathtaking diversity, a coming together of freethinking artists, dancers, performers, DJs, musicians, designers, hedonists, and exhibitionists of every stripe. It's also a place of endlessly amazing art installations, of startlingly decorated art cars, of strange and whimsical theme camps, of pulsing soundscapes and of uncommonly beautiful natural surroundings.
It was my fifth year attending the festival. My week on the playa was short this time, just four and a half days. While I got out as much as I could, staying out late every night and rising before dawn each morning, I came home with a relatively limited number of photos. I shot just 1,200 frames this year of which I threw out two thirds almost immediately. In fact, it was a challenge pulling together 100 quality images. Why not post, say, 20 or 30? Well, because I think 100 is a good number and it follows what has become something of an annual ritual. Also, there are some images that may not stand out on their own — and that's a fact — but which help tell a story, or convey something of the distinctive spirit of Burning Man 2008. And that's really what it's all about for me: the images work best when they capture the raw energy, the bawdy humor, the carefree sexuality, the bad taste — oh, the bad taste! — but above all the sheer outrageous good fun of it all. To say nothing of the sweetness, the generosity, the wonder, the kindness, the beauty which seems to surround you at every turn.
As in previous years, I shot all the images digitally with Canon cameras — a 5D and a 20D — along with a variety of lenses (the 24-70mm f/2.8 L and 70-200mm f/2.8 L being the main ones). I seem to get a lot of questions from fellow photographers who wonder what kind of equipment I use and how I protect it from the harsh conditions on the playa. The answer is: I don't. I find that anxiety about protecting my gear can really interfere with my creative instincts. I say better to just go for broke and give the cameras a good cleaning afterwards. (For an interesting discussion about this, have a look at the thread on Flickr titled How do you keep your camera from getting dusty at Burning Man?)
As always, I'm grateful to everyone who posed for me this year or freely consented to let me shoot them in the act of dancing, stilt-walking, hooping, making art, or simply being beautiful. I don't take that permission for granted. It takes a special patience to put up with tiresome photographers sticking their equipment in your face, pointing lenses at your tattoos, your necklaces, your derriere. My art, such as it is, would not be possible without that open consent and participation. So thank you.
My Burning Man photographs have gotten a lot of play this year, appearing in numerous magazines, in calendars, on a movie poster and CD cover, and in a book. I've also shown my work in several cities. In early September, Norway's leading daily newspaper, Dagbladet, ran a story I wrote along with a couple of photos of mine from Burning Man 2008. Needless to say, it's very gratifying to have people appreciate your work. But for me the real reward is that the event doesn't end when I leave the playa. It's become part of what I do during the other 51 weeks of the year.
If you're a Burning Man photo junkie, as I am, be sure to check out the galleries of other great photographers, such as John Curley, Neil Girling (aka The Blight), and Spencer Weiner of the Los Angeles Times. Wonderful stuff. Links at top left.
Thanks for visiting. If you want to be in touch, I'd love to hear from you. Drop me a line at scott@scottlondon.com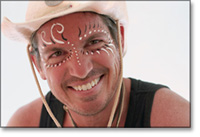 On the playa in 2008. Face painting by Andrea.
Photo by Vivian. Thank you both.